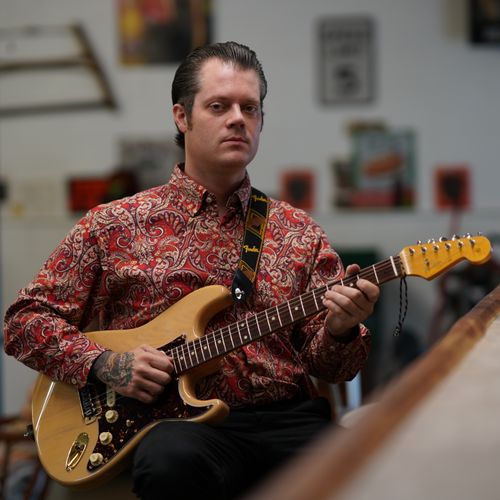 Mark Henes
Singer/songwriter Mark Henes is a living, breathing embodiment of the spirit of American music. Well versed in everything from the classic honky-tonk of Hank Williams to the electric boogie of Chuck Berry, he reimagines Americana for the 21st century, with high energy songs that range from thoughtful introspection to all out rock. 
Born and raised in Nashville, TN, Henes' career as a musician seemed almost predetermined. Growing up in the recording capitol of America, he was constantly surrounded by music. The high lonesome sound of vintage country, the sensitivity of the seventies singer/songwriters, the ferocity of the electric blues, he absorbed them all before he was even a young man. By the time he began performing around town, it was like he'd been doing it all his life. When he finally started writing songs of his own, he blended all of his influences into one sound that only he could make. 
In 2020 he officially arrived on the scene with his debut LP 'Crystallized Reflections.' A convincing and passionate collection of songs spanning several genres, it was well received locally with on critic praising its "haunting alt country and raucous rockiness." Now Mark is building on his early success and bracing for a national audience with the release his newest single, 'What Could You Be Right Now.' With an eye for poetic detail that matches his muscular instrumental arrangements, he explores the modern world fearlessly, offering a unique perspective all its own.
While many musicians are content to be boxed into one genre, Mark is the rare artist who can draw connections between seemingly disparate styles to create something one of a kind. He is truly unique in the world of singer/songwriters and his music is well worth your time.
Visit Mark Henes Official Website for his newest album Crystallized Reflections and to see tour dates.